"As The Pizza Bakes" Food Drama at the KnightLight Scene 2 Act 1
King Arthur Supreme: Hey Sir Lancelot I am taking Lady Guinevere Dessert out on the town tonight and gonna need a little extra time in the oven to work on my tan today. Can you keep an eye on the temperature for me?
Sir Lancelot Pepperoni: uh…suurre.
"Later that evening as Sir Lancelot Pepperoni picks up Lady Guinevere Dessert"
Lady Guinevere Dessert: Sir Lancelot Pepperoni? Where is King Arthur Supreme and why are you all dressed up?
Sir Lancelot Pepperoni: …King Arthur Supreme got a little burned today and I am going to be your take out pizza tonight. I dressed up for you and threw on some Jalapenos just to spice things up…lets go baby.
Queen Vegetarian: Looks like its time for me to step in and do a little investigation of whats going on in the Kitchen.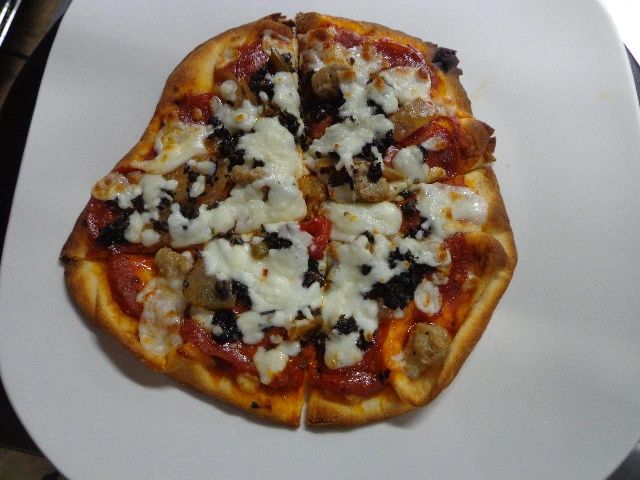 So the grilled Chicken with sautee'd mushrooms said to the Hawaiian Grilled Chicken, wow what are all those accessories you have on? To which the Hawaiian Grilled Chicken said I am seasoned and grilled then topped with bacon and a grilled pineapple slice then drizzled with a brown sugar glaze, and The Mushroom Bacon Cheeseburger replied with "wow, you are two smoking hot chics". (As the wine pours) Food drama at the KnightLight.